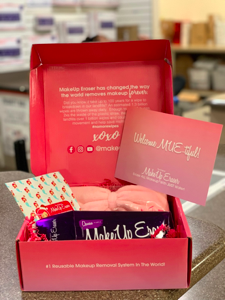 I kept getting ads to try out the Makeup Eraser's free sample. I caved in and got it. The sample was literally a small square that I was able to use once. It worked, so that was good, but it was left on my counter for about two months.
I got an advertisement email from Makeup Eraser about a Big Bow Headband being given for free with purchase of the original product. After comparing the discount code that was included with the sample and the discount with the bow, for some reason, the discount with the bow was cheaper, so I went with that.
Now here I am with a big Makeup Eraser bow headband that's supposed to make it easier when taking the makeup off of my face.
When I opened the original makeup eraser package, it tells you to wash it first in the washer, but I did not have access to a washer and dryer at the time. So, I did what anyone would do and just use the product.
I kid you not, this Makeup Eraser thing works. Like really works. It's way easier than trying to use some sort of soap and burn my eyes in the process.
It took off all of my makeup from mascara to foundation. I used separate sections for different days and all I have to do to completely wash it is to throw it in the laundry with my clothes.
The answer is yes, if you see a clickbait ad for this, you should buy it. I am going to buy another one for my sister who constantly uses makeup wipes.
How do you normally take off your makeup? Let me know in the comments below!
*Disclaimer: This is my own opinion and does not reflect the opinions of anyone or anything else.