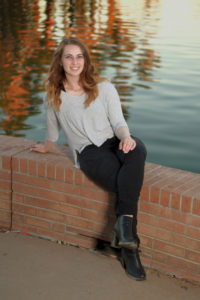 T Statman graduated from the University of Arizona with a B.A. in Political Science in May 2019. She was a 4-year softball letter winner and was able to make a significant impact on her team during her time there. Personal accomplishments include 2 time PAC-12 Academic 1st team, 2 time COSIDA All-District, and 2019 COSIDA 2nd Team Academic All-American. Currently, she is a member of the Israeli National Softball team.
Along with softball, other activities include West Coast Swing dance. She is now pursing a career in talk radio with previous experience in live tv sports production and article writing. In college, T had her own radio show "T-Time" on KAMP Radio which ran for 8 seasons, 1 hour per week. Currently, she is a board operator at Wildcats 1290 and produces a podcast called "The Sports Burrito".
During high school, T worked with the Arizona Skin Cancer Foundation for three years to form her own charity. All the proceeds went to assist melanoma patients, and were used for awareness and prevention materials about the disease. T also worked with a local news station in her hometown, and was a vlog contributor for Flo-Softball as well as blogging for Huffington Post.