This is a battle between the Tarte Rainforest of The Sea Highlighting Eyeshadow Palette Vol. III Versus Urban Decay OG Palette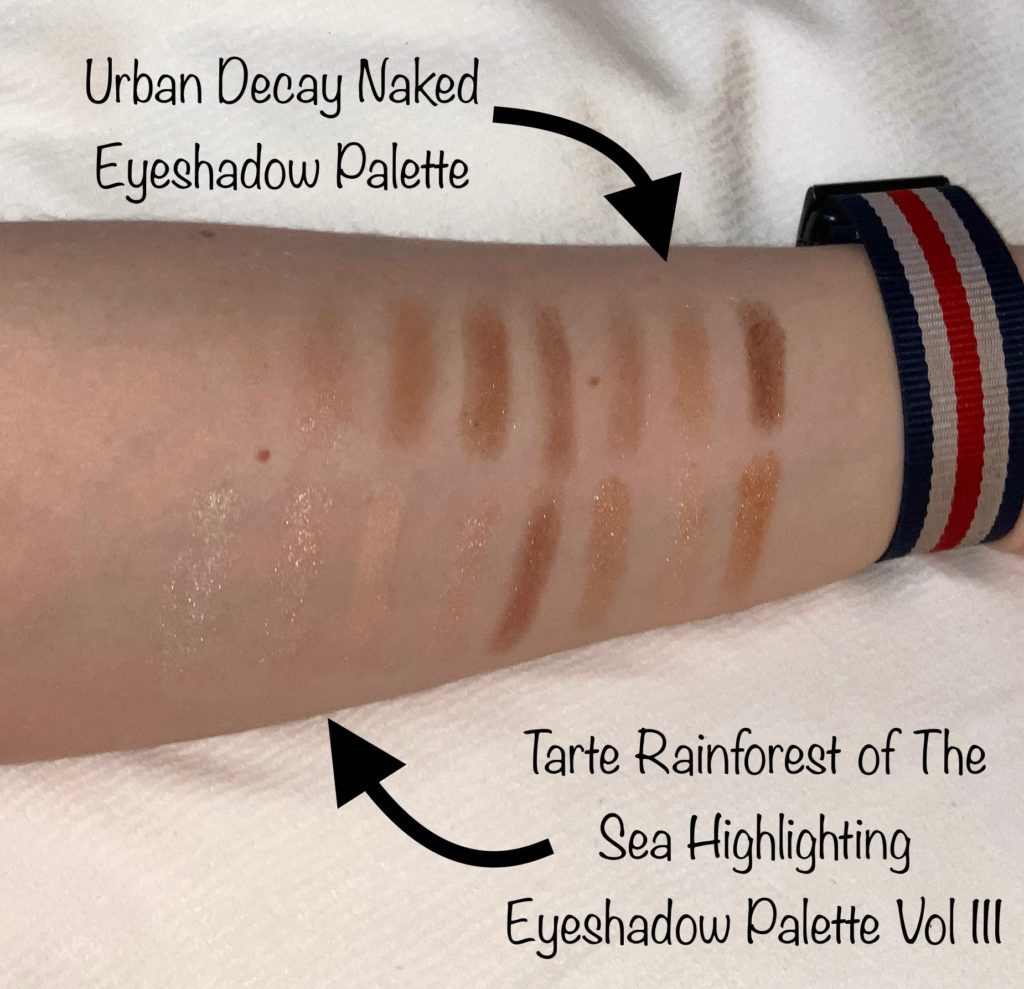 After receiving my Boxycharm last month, I realized that Tarte Rainforest of the Sea looked exactly like my Urban Decay palette.
The Urban Decay palette I am referring to is now discontinued, as I bought it half off at Ulta and saw multitudes of them at Nordstrom's Rack. However, I still wanted to show the difference because Urban Decay does have really similar colors in their other palettes.
When I first saw the Urban Decay palette on sale, I nearly had a cow. It was my first "brand name" makeup purchase. I wanted to love it so much!
However, the real test for eyeshadow is making it through a softball game without half falling off.
Pros:
Urban Decay (1, aka dead palette)- Comes with a Brush, Comes with mirror. Neutral colors, shimmers, and darks. There is a good variety of colors, but I usually stick with one or two color themes and the palette offers about four.
Would stay on, but just enough to know it was there at some point. Color on the lid was pretty much non-existent.
Tarte Rainforest of the Sea: All colors have at least a bit of shimmer, Comes with mirror, Simple variety of light neutral colors. You can see the light colors.
I happened to wear this palette the game that I got hit in the face with a ball and a black eye resulted following the swelling. This eyeshadow stayed on that's for sure. The next day I was still trying to carefully get all of the shimmer off of my eye.
Cons:
Urban Decay: Doesn't stay on eyes for long time, no black color included (but there's a dark blue), light colors don't show up as well.
Tarte Rainforest of the Sea: No brush. Palette fits a specific tone.
I feel like I became biased the second that I was able to try out the Tarte palette. I feel like there's just not a comparison with a palette for every-day use. I realized that I like shimmer, and not everyone likes having the shimmer at all times of the day.
If you like the matte base color where you can then add the subtle shimmer, then Urban Decay is perfect for you.
For me, personally, I'm all about the glitter and shiny part of the eyeshadow and this Tarte palette fits that need.
What is your favorite brand of eyeshadow? Let me know in the comments below!